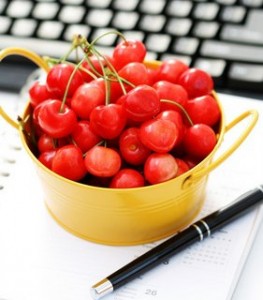 The fact that you are in the office during lunchtime, or in the field, is no excuse for you break your carefully organized Paleo diet plan.
With just a little effort and time in the kitchen, you can come up with delicious and healthy foods perfect for people who are on-the-go.
You can even make some of the items in batches and store them in the fridge.
This way, you won't have to go through too much trouble everyday.
I. Salads
Healthy, filling, refreshing… It is no surprise that salads easily top the list of Paleo diet recipes. You can choose from a variety of ingredients and dressing. Here is a quick guide to making your salad for lunches in the office.
1. There is no clear cut definition of what vegetables you can put in your salad. Basically, you can mix in your choice of vegetables (fruits even). Staples of most salads are onions, broccoli, olivers, peppers, radishes.
2.  For variety, you can top it off with a sprinkle of bacon.  
3. Balsamic vinegar, with its tangy flavor, best complements the flavor of the bacon as well as the rest of the vegetables in the mix.
II. Bite-Size Foods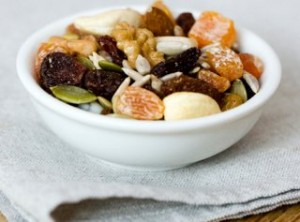 Indeed, there are times that good things come in small packages. Here are some of the best bite-size foods that are easy to prepare and perfect for any trip.
1. Olives
Rather than bring a can, it would be better if you transfer olives into another container which are easy to carry around, not to mention, easy to open.
2. Leftover food
Instead of throwing away your leftovers, why not cut them into small pieces and mix it with vegetables like greens and carrots? Store them in a plastic container and you are good to go.
3. Beef Jerky
This is a classic favorite to keep hunger pangs at bay.
4.  Trail mix
You can find this along with Paleo diet recipes in my previous  post Smart And Easy Paleo Diet Snack Ideas. You can make one at home by mixing dark chocolate with almonds. You can also replace almonds with macadamia.
III. Sandwiches
Add a little flavor to your sandwiches by slicing your breads into two and topping it off with beef and a  bit of mustard for a filling and healthy lunch or snack.
IV. Kebabs
It may be best served hot, even so, kebabs can still taste good even if they are already cold. Make your own tasty and healthy kebabs following these simple steps at home.
1. First, grill tomatoes, peppers, and onions.
2. Then, grill the main ingredient. It could be chicken, beef, sausage, or fish.
3. Pierce the freshly grilled vegetables and meat with a stick
4. Store the kebab in a foil or a wrap.
IV. Eggs
Eggs are a staple for many followers of Paleo diet. Working individuals on-the-go can opt for the typical and easy-to-prepare hard boiled eggs. But for those who prefer a variety, they can instead bake some egg muffins that will last them all throughout the week.