Before We Get To The Paleo Breakfast Ideas
Each day, someone begins a diet in order to lose those excess pounds from their waistline. On each day as well, someone loses the motivation to continue a diet that seemed as though it would bring successful results. In the United States, nearly 63 percent of the adult population is currently obese or overweight.
"Paleo Breakfast To Lose Weight" Video
You may either watch the video presentation I prepared for you on "Paleo Breakfast Ideas to Lose Weight" or you can skip it and keep reading.
One of the best diets developed is the Paleo diet. This diet is unlike any of the others before. With this diet, it's not about limiting food types nor is it about limiting food intake quantity to lose weight. Instead, it's about first learning what foods they may eat and how much of each food type is allowed. You will be surprised at the great tasting meals you can come up with, on the Paleo diet.
Paleo Foods Allowed in Unlimited Amounts
There are some foods allowed on the Paleo Diet that can be consumed in unlimited amounts. You may be totally amazed once you learn exactly what foods you can have.
Lean beef and other meats that have been trimmed of all visible fat such as top sirloin steak.
Hamburger with less than 7 percent fat content making it very lean.
Veal in lean cuts.
Pork with all fat trimmed such as chops.
Lean white poultry meat such as breast from game, turkey or chicken.
Six eggs in a seven day period.
Goat and rabbit meat.
Duck or goose meat.
Beef, lamb, chicken or pork liver.
Beef, pork or lamb tongue.
Lamb, beef or pork marrow.
Lamb, beef or port sweetbreads.
Wild game meat.
Fish.
Shellfish.
Fruits.
Vegetables.
Nuts and seeds.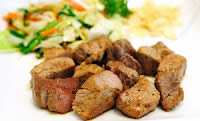 This in itself is quite a general list, therefore, you may research the foods allowed in the Paleo Diet more thoroughly in order to be able to plan the best meals. The important thing too is that, with such variety, you can easily accomplish your goals for your health and diet while making meals taste delicious! You may also be interested or want to take a look at my paleo diet review full analysis.
Some Great Paleo Breakfast Ideas
There are many great foods that you can have as part of your Paleo breakfast. Breakfast is one of the most important meals of the day. Consuming a healthy and well-balanced breakfast can help to decrease your appetite during the day, therefore, allowing you to consume smaller meals and snacks throughout the day.
Many people opt for a fruit-filled breakfast. You can use fresh or frozen fruits to create a plate of filling nutrition. Strawberries, bananas, oranges, grapefruits, blueberries, blackberries, raspberries, melon and more can be chosen for breakfast.
You can make a great Paleo breakfast smoothie using fruits as well. Simply mix coconut milk, fruit, eggs, nut butter and vanilla extract into a blender and blend until smooth. You can refrigerate the smoothie after blending for later use. This smoothie should contain enough nutrients to last you until lunch time. This kind of paleo breakfast idea for a smoothie would also be a great healthy mid-morning snack.
Others enjoy a more traditional breakfast consisting of eggs and bacon. You might choose to add a few chopped vegetables such as peppers and have a fabulous omelet. Adding bacon will enhance the flavor of your breakfast. Remember, breads and grains are not allowed. You can find more information on paleo cookbooks online.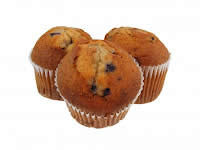 Another filling and healthy idea are paleo breakfast muffins themselves. These can be prepared in large quantities in order to simplify your breakfast meals for a few days. This is a great idea for busy individuals that eat breakfast on the go. Below is the recipe for these great breakfast muffins.
Paleo Breakfast Muffins (Use any type of Berry)
¼ TSP Baking Powder
¼ Cup Almond Flour
2 TBSP Coconut Flour
2 TBSP Arrow Root Flour
½ TSP Sea Salts
¾ Cup Frozen or Fresh Berries (Your Choice)
3 Large Eggs
1 TBSP Vanilla Extract
2 TBSP Coconut Oil
2 ½ TBSP Applesauce (Sugar-Free)
Coconut Oil Spray
Place oven on 350 degrees and allow preheating. Mix salt, baking powder and all flours in a large bowl. In another mixing bowl, mix remaining ingredients except berries. Mix wet and dry ingredients together in the larger bowl. Fold your choice of berries into the mix. Use coconut oil spray to spray muffin pan. Pour cups one half full of mix. Pour ¾ full for large muffins. Bake for twenty to twenty-five minutes.
If you are really "Hungry For Change" and want to begin getting healthier while losing weight, the Paleo Diet is definitely for you! Enjoy these great ideas for your Paleo breakfast!